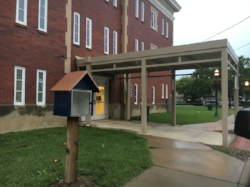 Marietta Morning Rotary and City of Marietta
to Dedicate Little Free Library at Armory
September 25, 2018
FOR IMMEDIATE RELEASE – The Marietta Morning Rotary Club (https://www.mariettamorningrotaryclub.com), in conjunction with the City of Marietta, will dedicate a "Little Free Library" at the Armory on Wednesday, September 26, at 2 p.m. Members of the media and the general public are invited to attend.
One of the Rotary's missions is to improve literacy, and the Rotary hopes to have an impact on the local community and visitors with the addition of a Little Free Library. The program allows people to take a book and then leave a book for someone to pick up. More information on the Little Free Library program can be found at https://littlefreelibrary.org/about/.
For more information, contact the Marietta Morning Rotary Club at mariettamorningrotary@gmail.com.